Zoom Classes Around The World
September 15, 2020
Selvedge Magazine was scheduled to hold their first World's Faire in September in London. One of the few good things to come out of the covid crisis has been the availability of classes and workshops around the world, online. I doubt that I would have been able to attend the London fair, but because they decided to go ahead with the fair and put it online, it gave me the chance to attend.
(I have also "attended" some fabulous workshops with Botanical Colors. Botanical Colors is a Seattle company owned by Kathy Hattori whom many of you may know through her natural dyes and her classes at BARN. She has had some AMAZING people speak on zoom calls, and has made the videosavailable. )
So, last week I was able to take an Upcycling and Draping class from Christine Mayer. She is a designer from Germany who in the early 2000's had a fashion company that made a line of jackets from old East German military jackets, and has recycled jeans into new jackets. I have been making clothing from recycled pieces from at least 2009. However, I have always used patterns and deconstruction to make my upcycled clothing. Christine's method uses draping to take pieces and make them into "new" garments.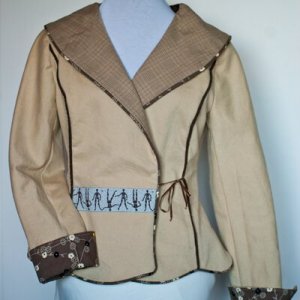 Front of jacket made from khaki pants, quilting fabric scraps and ribbons. Self drafted.
Back of jacket, showing faux corset, with ribbon trim and ruffles from leftover fabrics in stash, and piping. (Skalak 2014)
This Christine Mayer jacket made out of recycled cloth handwoven linen and is screen printed by a Berlin artist. Christine uses draping for her designs rather than patterns. This piece is for sale on her website.
Christine started the class with a short introduction and bio. She was a costume designer for opera and ballet. She ran her own design house for 10 years, closing it in 2014. She uses old linen pieces, pillow cases, and flour sacks for many of her designs then embellishes them with felting and embroidery and in some cases printing. She started the draping process after studying with a Japanese draper.
Christine uses free draping to create one-of-a-kind pieces right on the dress form pinning the fabric together as she goes. She tries to retain as many of the original features of the garment as she can, but may use the pieces in different orientations from their original one. The coat above and the two pieces below are for sale on her website.
This piece started life as a pillow case. You can see where she used the lace edging on the pillow case around the waist.
This up cycled denim jacket was made from multiple pairs of jeans. You can see that she used the waist band as the front opening of the jacket, and reused the back pockets.
For the class, she suggested we use two men's shirts of complimentary color, but I had used all of the shirts we had around for making masks earlier in the year. So, I used a tunic that was showing wear and an outgrown shirt from my daughter's cast offs. Both had similar drape.
She had us start by placing the shirt on a dress from and just play with different orientations until we found one that we liked. I draped my shirt upside down, using the bottom of the shirt along the neckline. I used the tunic in a similar orientation. She had us work one side at a time from front to back.
The process is quite fun and freeing. The goal is to pin the fabrics together with lots of pins, then pull off the dress form, and sew together removing the pins as you sew, using as many finished edges as possible, preferably with top stitching.
The class was quite fun. I learned quite a bit in just a short two hour zoom class. I have signed up for another class in October. It is a three day class on draping coats, and she also has a year long master class offered for 2020 which already has a waiting list, and one listed for 2021.
This class opened up a new technique for me in the reuse of garments and thrift store finds in addition to cutting pieces apart and using of patterns. The shirt shown below is the one I draped in class, then sewed in a couple of hours afterwards. I am looking forward to the coat class in October.
Susan


Combination of my daughter's outgrown shirt of rayon and my tunic of double gauze.


Back of shirt.